$ 26.5m investment, venture to kick off immediately in Kuliyapitiya, completed within 2 years
Employment for 200, training facility for 2,000, vehicles to be sold in local market for 3 years
8-year tax holiday, 500 annual manufacture, eye on exporting to South Asia    
By Uditha Jayasinghe
Notching up more foreign investment for Sri Lanka, the Board of Investment (BOI) inked a $26.5 million assembly plant deal with German giant Volkswagen yesterday.
The much-discussed deal will see Volkswagen building an assembly plant in Kuliyapitiya on an estimated 30-acre plot of land that will provide employment for about 200 people. A separate training facility will be set up with trainers from Germany to provide manpower for the plant and the motor car industry in general.
The venture has been given an eight-year tax holiday. $ 21.5 million will be invested as direct foreign investment while the rest will be borrowed capital.
"Prime Minister Ranil Wickremesinghe was very focused on training and the facility will provide training to about 2,000 people who can get jobs locally or go abroad. We are very happy to see a project that we have worked on for such a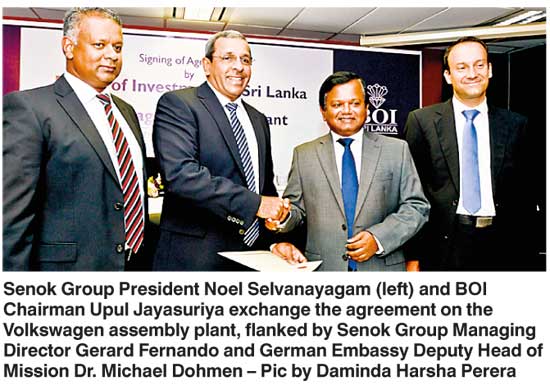 long time coming together," Senok Group President Noel Selvanayagam told media at the signing ceremony organised by BOI.
Senok Group, which signed on behalf of Volkswagen as the local dealer, will pick between three pieces of land in Kuliyapitiya and the project will kick off immediately. The assembly plant will be completed within two years and is expected to churn out 500 odd vehicles every 12 months for three years to be exclusively sold in Sri Lanka, BOI Chairman Upul Jayasuriya said.
The models of the vehicles are yet to be decided but they are likely to be passenger cars, Sports Utility Vehicles (SUVs) and Multi Utility Vehicles (MUVs).  As they are assembled in Sri Lanka, they will likely enter the market at a cheaper price, Jayasuriya noted. He was also confident given the strong economic relationship Sri Lanka enjoys with the rest of South Asia export markets for the vehicles would be found, giving the venture room to expand.
"We are happy and proud of this Volkswagen initiative. For many decades the BOI has funnelled investment to many fields but it lagged behind it the motor industry. The Prime Minister drove this investment and will take pride in it becoming a reality," he added.
Organisers also praised the German Embassy for its assistance and Senior Advisor to the Prime Minister R. Paskaralingam for pushing through the venture in a matter of 40 days. The BOI Chairman also insisted timing of the deal signing was not intentional and many other investment projects were in the pipeline.
– See more at: http://www.ft.lk/article/457785/Volkswagen-plugs-in-assembly-plant#sthash.E8eff3Oj.dpuf